2015 Geisler Penquite Educational Excellence Speakers
Join us for the second speaker in our
2015 Geisler Penquite Speaker Series

____________________________________

Rick Wormeli      September 23rd, 2015
One of the first Nationally Board Certified teachers in America, Rick brings innovation, energy, validity and high standards to both presentations and his instructional practice, which includes 33 years teaching math, science, English, physical education, health, and history and coaching teachers and principals. Rick's work has been reported in numerous media, including ABC's "Good Morning America", "Hardball with Chris Matthews," National Geographic and Good Housekeeping magazines, What Matters Most: Teaching for the 21st Century, and the Washington Post. He is a columnist for Middle Ground magazine and a frequent contributor to ASCD's Education Leadership magazine.  He is author of the award winning book, Meet Me in the Middle, as well as numerous other best-selling books in the field of education.
Standards-Based Grading: Myth-busting, Ethics, and Practicality
 9:00 -11:30 a.m.
Some parents, colleagues, school board members, and business leaders struggle with what is and is not standards-based grading. Teachers and leaders using standards-based grading are facing some 'pushback' from those with little background in it. As a result they are backing away from something unusually effective in teaching and learning. Whatever they are, current grading practices create very real futures; they better be accurate and ethical. Many traditional grading practices, unfortunately, are neither. This address presents the essential elements of standards-based grading, including its merits, potential pitfalls, and candid responses to the most common concerns regarding its use. Vetted by decades of work in the U.S. and around the world, we'll correct the misconceptions and make a compelling case for standards-based grading.
Cultivating Resilience and 'Stick-to-itiveness' in Students
1:00 – 3:30 p.m.
Tenacity is a virtue, but the personal fortitude to stick with an arduous task takes time and experience to mature. Many students grow impatient with content not parsed into sound-bytes, and reading extended, logical rhetoric through each argument to its ultimate conclusion is almost unheard of. On the other hand, If the story is good, students will read books of over 700 pages. They play on-line games working their way through 12 levels of difficulty for six hours, and they stay after school into the evening to practice for theater productions, get ready for sports tournaments, and conduct fun science experiments for the public. Join us for a compelling session on how to help students find the reserves to stick with projects and tasks, be they physical or intellectual. We'll look at elements in three areas: interpersonal relationships, lesson design, and assessment/grading, that cultivate resilience in students. There is no such thing as laziness; our students want to do demanding, complex learning, they want to persevere! To this, our students aspire; with this, our world was built. In our classrooms right now, there is an eager William Wilberforce, Malala Yousafzai, and younger versions of J.K. Rowling and Theodore Seuss Geisel (both turned down repeatedly for their manuscripts) looking for inspiration. This generation is more than ready for what it takes to make the world their own. Let's light this rocket!
ALL SESSIONS ARE FREE AND OPEN TO THE PUBLIC THANKS TO A GENEROUS DONATION FROM THE GEISLER PENQUITE FOUNDATION!
REGISTER NOW TO SECURE YOUR SEAT! 
 Rick Wormeli Event
REGISTRATION CLOSED! 
Central Education Students Engage and Teach in Puerto Rico
Central Education Students Engage and Teach in Puerto Rico with Faculty through Moore Foundation Grant
Six Central College Education students spent a week of their winter break teaching  with faculty members in local k-12 schools in  Puerto Rico. Part of the faculty members' research through a campus Moore Foundation Grant, students engaged in the local culture, spent several days teaching in the schools, and even enjoyed some time at the beach! The two faculty members, Dr. Katie Gaebel, and Dr. Jennifer Diers, are researching pre-service teachers dispositions as a result of a short-term educational trip.
Central Education students tackle bullying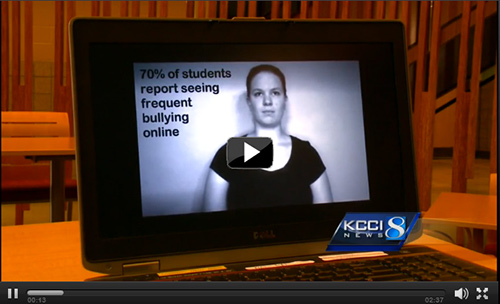 Read more at: http://www.kcci.com/news/central-iowa/Iowa-student-s-video-takes-on-bullying/-/9357080/23553382/-/2ylix6z/-/index.html#ixzz2qyJLhdIV
The Roe Center
Hanna Wilson '13 chose Central because the new education building demonstrated that the program was a high priority for the college. Take a tour of the high-tech, sustainable building.