GP Speaker Series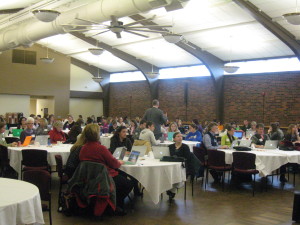 2015 Geisler Penquite Speaker Series Connects Hundreds of Educators at Central College!

One of the first Nationally Board Certified teachers in America, Rick Wormeli joined hundreds of local and state educators as well as Central College Teacher Education students on September 23rd, 2015. Rick brought innovation, energy, validity and high standards to both presentations. His instructional practice, which includes 33 years teaching math, science, English, physical education, health, and history and coaching teachers and principals was beneficial to all in attendance. Rick's work has been reported in numerous media, including ABC's "Good Morning America", "Hardball with Chris Matthews," National Geographic and Good Housekeeping magazines, What Matters Most: Teaching for the 21st Century, and the Washington Post. He is a columnist for Middle Ground magazine and a frequent contributor to ASCD's Education Leadership magazine.  He is author of the award winning book, Meet Me in the Middle, as well as numerous other best-selling books in the field of education.
2014 GEISLER PENQUITE SPRING SPEAKERS SERIES IS A HUGE SUCCESS!
The Geisler Penquite Foundation provides a yearly Education Excellence Fund to the Education Department at Central College. The endowment will be used to enhance educational opportunities in teacher preparation and performance. One area of focus with this funding has been the Annual GP Speaker Series which allows students, local educators and faculty to network with elite professionals in the field.
This year we welcomed four speakers to campus to engage pre-service teachers, in-service teachers and other students and community members.
Our first GP Speaker, Penni Bowers, welcomed participants into a half day workshop on using "Basic Sign Language in the Classroom". Penni served as a sign language interpreter in public schools and led participants in learning to sign as well as understanding the dynamics of having a student with a hearing impairment in the classroom.
Dr. Teske Drake joined campus on Monday evening, March 3rd to tackle a relevant but difficult topic for current and future educators. In her workshop, "Practical Strategies for Helping Grieving Students" Dr. Drake provided participants with authentic scenarios they might face in the classroom surrounding grief and loss and provided immediate strategies to help support students struggling with death and loss in their lives.
On Wednesday, March 26th   Mike Bevelacqua engaged students in methods of teaching math through his presentation entitled,  "Using TI NSpire Techology to Engage Students in Learning Math" Mike  currently teaches in Iowa City Public Schools at City High. He conducts workshops for practicing and future teachers on incorporating TI NSpire in middle and secondary classrooms to engage and motivate students to learn math. Mike  shared methods he currently uses in his teaching as well as his experiences in working with students and teachers in the area of math instruction.
Saturday, April 5th, Central alum, Cindra Porter provided   "Practical Teaching Methods with English Learners" Cindra is a doctoral candidate in Foreign Language and ESL Education at The University of Iowa. Cindra has ten years ESL teaching experience and has taught courses for pre-service ESL teachers. Cindra currently works as an ESL teacher for Des Moines Public Schools. This engaging workshop provided participants with practical methods for reaching and engaging English learners in the classroom.
Due to the generous donations from the Geisler Penquite Foundation, all workshops were free and open to the public and almost 200 people participating in the varying workshops.
_______________________________________________________________________
Harry & Rosemary Wong Present at Central College!
In the inaugural year, the Excellence Fund committee brought Dr.'s Harry and Rosemary Wong to campus to speak. The duo delivered a presentation titled "How to be a Successful and Effective Teacher," to over 500 people from across the state of Iowa and beyond. The event highlighted the Wongs' acclaimed theories on classroom management and student success as well as their book, "The First Days of School," which is the highest-selling book ever in education, with more than 3.6 million copies sold worldwide.
In its second year, the Education Excellence Fund hosted Dr. Scott McLeod an internationally known expert on technology in education. Dr. McLeod presented four workshops to the college campus and community, engaging over 200 educators, administrators and students in a day of learning and critical thinking.