GP Scholars Program
The Geisler Penquite Foundation awarded Central with $5 million for scholarships, committing to $100,000 per year. The gifts will alternate between the Geisler and Penquite Endowed Scholarship Funds. The scholarships will be awarded to juniors and seniors accepted into the teacher preparation program. When completely funded, the gift will support 48-50 renewable scholarships of $5,000 for 12 new students in the elementary and secondary education programs.
The Scholars Program honors students who exemplify our essential values and skills, advocate for future teachers in very direct ways, and work collaboratively to lead in ways that build upon our positive reputation to recruit and prepare exemplary teachers for future generations.
New cholarships will be awarded in Spring 2015. Students must be sophomore standing, hold a 3.4 GPA or higher, be approved into the Education Program at Central College, and be committed to excellence in education.
To apply for the 2015 Geisler Penquite Scholarships, complete this
2015 Geisler Penquite Application by March, 25, 2015.

2014 Geisler-Penquite Scholars
The following students were named the 2014 Geisler Penquite Scholars:
 Kaitlyn Huisman
Kaitlyn is pursuing a double major in Spanish and Elementary Education with endorsements in Special Education and Reading. She hopes to become a Spanish Special Education teacher or a Spanish Immersion Elementary Education teacher. Kaitlyn holds a 3.67 cumulative college GPA and interviewed with the Geisler Penquite committee via Skype technology while studying abroad in Granada, Spain. Kaitlyn grew up in Sioux Center, Iowa, is involved in the Central Teacher Academy, and has served as a volunteer with Special Olympics, Everybody Wins! Iowa, and Kinsey Elementary School.
Lauren Meyer
Lauren is from Adel, Iowa and is pursuing an Elementary Education major with endorsements in English as a Second Language and Reading. She received the Central College Presidential scholarship in 2012 and has already gained extensive classroom experience both locally and internationally. She has volunteered in a variety of areas of the world including India, Mexico, Haiti, Puerto Rico, South Africa, and the Bahamas. Lauren hopes to use her Central College education to teach in a developing country.
Anna Pierce
While pursuing a major in Chemistry, Anna will receive a teaching license in Secondary Education with a minor in Biology and a teaching endorsement in Physics. Anna holds a cumulative college GPA of 3.98 and is a member of the Central College Teacher Academy. Anna conducts research on campus, serves as Graham Hall Council Secretary and tutors weekly in Knoxville Community Schools. Anna's hometown is Johnston, Iowa.
Jacob Wassenaar
Jake is a graduate of Pella Community High School and is pursuing an Elementary Education degree with a middle school endorsement in the areas of Social Studies and Mathematics. Jake holds a 4.0 cumulative college GPA and interviewed with the Geisler Penquite committee via Skype technology while studying abroad in Leiden, Netherlands. Jake is a three-time member of the Central College Dean's list, a member of the 2013 Iowa Conference All Academic Team, is involved in the Central Teacher Academy, is a member of the Central College football team, and is actively involved in campus ministries.
2013 Geisler-Penquite Scholars
Emily Drey: Emily is a sophomore elementary education major with a strategist I endorsement. She is from Pella, Iowa and anticipates teaching students with disabilities and becoming a school counselor.
Libby Larson: Libby is a junior elementary education major with a middle school endorsement in math and science and is from Marshalltown, Iowa. Larson has served in the education club leadership and hopes to teach at the middle school level after graduating. She also intends to obtain a coaching endorsement.
Sydney Gray: Sydney is a sophomore elementary education major with reading and Spanish endorsements and is from Miles, Iowa. She enjoys volunteer service, traveled to Puero Rico this summer to work in local schools, and hopes to teach K-6 grade.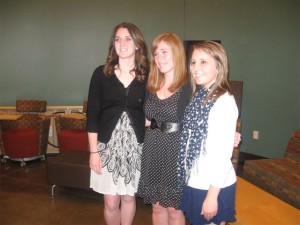 2013 Scholars Sydney Gray, Libby Larson & Emily Drey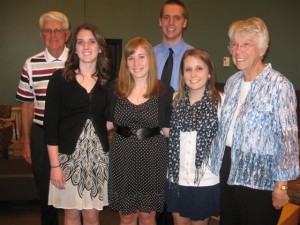 2013 Scholars & 2011 Scholar, Nate Wall, with GP Foundation Members
2012 Geisler Scholar
Kathryn Manternach was named the Geisler-Penquite scholar in 2012/2013. She is pursuing a degree in secondary education with a focus on mathematics. In her spring term, Kathryn studied abroad in Wales, providing her with a wealth of culturally diverse experiences. Kathryn is excited to be back on campus and able to facilitate leadership in the education department with the newly named 2013/2014 GP scholars.
2011 Penquite Scholar
Nathan Wall was named the Geisler-Penquite scholar in our inaugural year of the program. After receiving the two-year scholarship to help in his pursuit of a degree in elementary education, Nathan graduated in May 2013 with endorsements in middle school language arts, middle school social studies, and coaching. During his final years at Central, Nathan spent much time working in the Pella community schools both in the classroom and as a hired middle school basketball coach and basketball official. Nathan's excellence in the classroom and community and his recognition as a GP scholar afforded him early interviews with a number of school districts in Iowa. He will pursue his dream of teaching near his hometown of Manning as he serves as a sixth grade teacher at Carroll Public Schools in Carroll, Iowa beginning this fall. Nathan will be teaching sixth grade science and social studies, coaching ninth grade baseball and coaching seventh grade baseball for Carroll Community Schools. Nathan would like to express his gratitude to the Geisler-Penquite Foundation for helping him achieve his goal of becoming a highly qualified teacher in the state of Iowa.
2011 Scholar, Nate Wall, at a GP Excellence event
Both Kathryn and Nathan were involved in the selection process for the 2013 Geisler-Penquite Scholars. In addition, Nathan helped facilitate programming through the Geisler-Penquite Educational Excellence Fund and served as a leader in the education department during his tenure as a Geisler-Penquite scholar. Kathryn will assist in varying ways in the upcoming year as a part of the Geisler-Penquite committee, including being involved in the scholarship process, promoting the Geisler-Penquite scholarships and programming through the Educational Excellence fund, and assisting in the ongoing work of the committee.