Academic Affairs
2018 Common Reading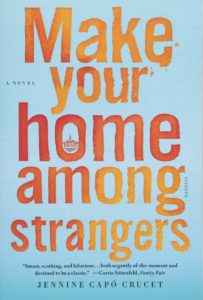 Core Committee, Academic Affairs, Student Development, and the Office of Sustainability Education are pleased to announce Make Your Home Among Strangers as the 2018 Common Reading for Central College.
When Lizet-the daughter of Cuban immigrants and the first in her family to graduate from high school-secretly applies and is accepted to an ultra-elite college, her parents are furious at her decision to leave Miami. Just weeks before she's set to start school, her parents divorce and her father sells her childhood home, leaving Lizet, her mother, and Leidy-Lizet's older sister, a brand-new single mom-without a steady income and scrambling for a place to live.
Amidst this turmoil, Lizet begins her first semester at Rawlings College, distracted by both the exciting and difficult moments of freshman year. But the privileged world of the campus feels utterly foreign, as does her new awareness of herself as a minority. Struggling both socially and academically, she returns to Miami for a surprise Thanksgiving visit, only to be overshadowed by the arrival of Ariel Hernandez, a young boy whose mother died fleeing with him from Cuba on a raft. The ensuing immigration battle puts Miami in a glaring spotlight, captivating the nation and entangling Lizet's entire family, especially her mother.
Pulled between life at college and the needs of those she loves, Lizet is faced with difficult decisions that will change her life forever. Urgent and mordantly funny, Make Your Home Among Strangers tells the moving story of a young woman torn between generational, cultural, and political forces; it's the new story of what it means to be American today.
For students
Your first assignment at Central College is to readMake Your Home Among Strangers. We look forward to discussing it during our first meeting of your LAS 110: Intersections class during Welcome Week. More information can be found on Geisler Library's Geisler Guide
Make Your Home Among Strangers is available in the Spirit Shoppe in Maytag Student Center, or in the online bookstore: central.textbookx.com
Discussion Questions to Consider:
What communities is Lizet a part of, and how do they support and/or conflict with each other? What does that constellation of communities look like for you?
What is "home"?
How did you decide to come to Central? What influenced you? How does your decision-making process compare to Lizet's?
What do you anticipate your coming to college experience will be similar to from the book? What do you expect will be different? Did the book change your expectations of what college will be like?
How are alcohol and verbal aggression displayed in the communities that Lizet belongs to?
What was Lizet's path to finding her passion? What characteristics does she display along the way?