Dear Mother Nature: The Water is Thirsty
March 20, 2015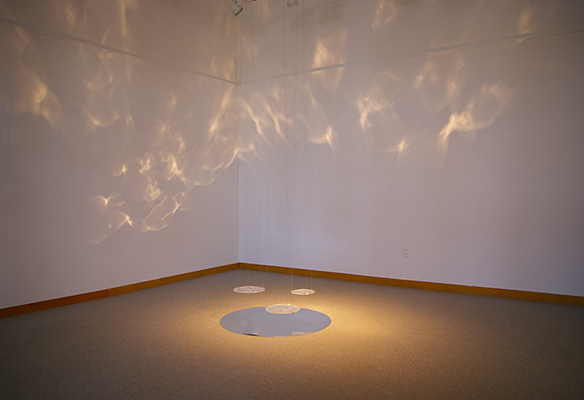 Suzy Sureck
Re-Wire
Suspended sandblasted plexiglas discs, steel wire, mylar.
Suzy Sureck is the second of three Allison B. Allen Visiting Artists working with the theme Dear Mother Nature. Below are excerpts from her Artist's Statement:

"My sculptural installations, drawings and videos use light in various forms for the physical and metaphoric qualities of reflection and shadow and the poetics of luminosity. Emphasizing the awe of earth's inherent beauty and value, its complexities and cycles, the works acknowledge the increased vulnerability of our planet and our selves, reflecting on the impacts of an ecosystem out of balance."

"The Water is Thirsty explores the relation of inner and outer landscapes, and offers hope. Research on the plasticity of the brain points increasingly to our abilities to rewire our brains. With this is mind, we can adjust our relationship with the environment, not imposing ourselves, but listening and being informed by its wisdom."
The theme Dear Mother Nature was suggested by Linda Weintraub of Art Now publications who will be conducting a public workshop and lecture later in April of this year.
Suzy Sureck's work will be on display from February 17th through March 13th.
---