Mary Merkel-Hess: "Patterns of Growth"
October 6, 2015
Fiber artist Mary Merkel-Hess grew up in Evansdale and Gilbertville, Iowa. She received her B.A. in philosophy (1971) from Marquette University, Milwaukee, Wisconsin, and her B.F.A. (1976) from University of Wisconsin-Milwaukee. She earned her M.F.A. in metalsmithing from the University of Iowa, Iowa City, in 1983. She is married and has two children.
Her sculptural basket-like forms, which she refers to as "landscape reports," are inspired by Iowa's natural surroundings, where the landscape is dominated by billowing fields of grass and corn. Using reeds and paper, her work conjures images of slender grasses and cultivated fields, shaped and tamed like Iowa's gridded landscape. Her continual use of the basket form is another symbolic reference to nature and life as it carries and stores the earth's bounty.   (from:http://www.lucidplanet.com/iwa/ArtistPages/merkelhessm.php Iowa Women Artist oral history project.  You can listen to an interview with her on this site.)
Dates:  August 19 – Sept. 18,2015
Artist Talk and Reception:  Sept. 14, 5:30 p.m.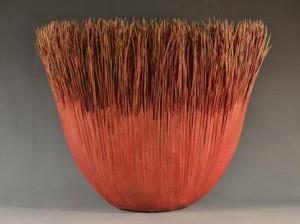 ---