Rebecca Strzelec: "Trial Balloons"
October 6, 2015
Rebecca Strzelec, Allison B. Allen artist-in-residence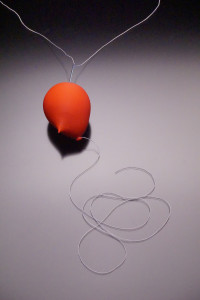 Rebecca is Professor of Visual Arts, Pennsylvania State University, Altoona College.  She has exhibited her work nationally and internationally and has work in the permanent collections of the Museum of Arts and Design, New York, NY, Racine Art Museum, Racine, WI and the Fuller Craft Museum, Brockton, MA as well as many other museum and private collections.
She has been creating pieces on a 3-D printer and will be on campus Nov. 8 – 12 with workshops open to all.
Strzelec is the only artist on team of engineers awarded four year, 2 million dollar National Science Foundation grant.  You can learn more about their work here:
https://wikispaces.psu.edu/display/neo/welcome
Dates:  Oct. 21 – Nov. 13, 2015
Artist Talk and Reception:  Nov. 11, 5:30 p.m.
---