Joe Muench: "Skin Deep: Explorations in Metal (2006- 2016)"
August 29, 2016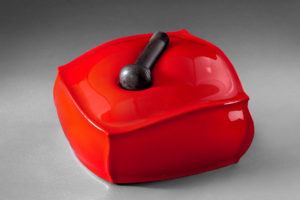 Joe Muench received a BA in Craft Design from Iowa State University in 1984 studying with Professor Chuck Evans and an MFA in metalsmithing from Washington University, St. Louis, MO in1987 under the tutelage of Professor Heikki Seppa . He is currently a Professor of Art and Visual Culture at Iowa State University where he has taught jewelry/metalsmithing since 2001.
Specializing in metalsmithing processes applicable to jewelry, objects and sculpture, Joe practices an innovative hybrid approach that combines his research in both historic and traditional processes such as chasing and repousse and contemporary industrially based approaches to metalshaping. His award winning work has been widely exhibited and has been featured in numerous publications including Chasing and Repousse: Methods Ancient and Modern; Lark books 500 Metal Vessels and 500 Necklaces; The Metalsmith's Book of Boxes and Lockets; Jewelry: Contemporary Design and Technique and Metalsmith magazine.
Exhibit Dates:  August 24 – Sept. 16, 2016
Artist Talk and Reception:  Sept. 16, 4:00 p.m.
---