Jonathan McFadden's Print and Installation Art in Mills Gallery
January 8, 2020
by Joe Hoksbergen
As we installed his work in the Mills Gallery, I realized that Jonathan McFadden's artwork might challenge some who view it, not because of offensive content, but because the conceptual tenor. Unlike so-called traditional works of art contained in frames, McFadden's works burst out from the frame into the gallery space. The work includes digitally manipulated photographs; repeated phrases in bold vinyl text; vinyl shapes; and 3D printed figurines. This is not the artwork many of us are used to. So I asked the artist to explain his work to me as if I'm a twelve-year-old. He said, "The easiest entry point is probably Pop art."
The celebrated Pop artists like Andy Warhol, Claus Oldenburg, and Roy Lichtenstein realized the profound cultural significance of modern themes like mass production, celebrity, and mass media. But this was the 60s and 70s. These topics continue to be relevant but they have evolved.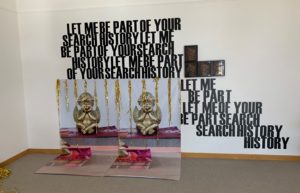 Jonathan McFadden's work lives in the current world. His installations reflect the experience of life in the age of the Internet. One of the pieces in this show, for example, displays bold, meme-like text repeating the phrase, "Let me be part of your search history." The text frames two identical photographic images of kitschy golden cherubs festooned with gold tinsel. The piece conjures thoughts about relationships, authenticity, and the anxiety of isolation in a digital age.
McFadden describes his work as "processing fragments of personal narratives." The artist points out that "these digital images appear in ours social feeds temporarily, [but] they have a permanence and history that exists beyond the brief moment we view them on our devices."
This installation and other works by Jonathan McFadden will be on display in the Mills Gallery from January 20 through February 14. Gallery hours are 9 am to 5 pm. A reception and artist talk will be held on February 5 at 5 pm.
---