Mills Gallery Welcomes Molly Wood
February 28, 2020
Central professors, Treva Reimer and her husband, Keith Ratzlaff (both now emeritus) periodically attend art openings at Olson-Larsen Galleries in Des Moines. During one of these events, they found themselves lingering on one piece in particular. As they gazed at this photographic print, each separately came to the realization that this image would make the perfect cover for Keith's latest book of poetry. The captivating photo depicted three poppy blooms winding through the composition in a kind of enigmatic dance. The couple expressed their fondness of the piece to it's creator, Molly Wood. So began a series of discussions that would eventually lead to Wood's artwork on the cover of Ratzlaff's book, "Who's Asking?" published by Anhinga Press along with an art show featuring Wood's work here in the Mills Gallery.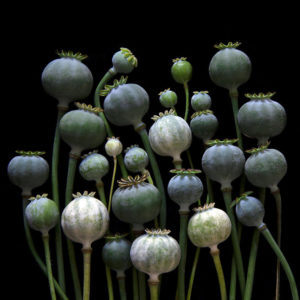 It is little wonder that one of these pieces graces the cover of a book of poetry. Wood's mostly botanical photographs evoke a sense of haunting natural beauty. Ratzlaff describes a "striking starkness" that resonated with the elegiac subtext of his poetry. Wood explains in her artist statement that this series of photographs comes out of a fascination with women of the Renaissance who used their knowledge of botanicals to serve as healers, sometimes in competition with medical professionals. In Wood's words, "Botanical knowledge became dangerous knowledge and was the start of a long and complex history of power struggles and gender conflicts." The plants allude to femininity, graceful and delicate but also powerfully potent.
Molly Wood's work will be on display in the Mills Gallery on Central's campus from March 23 through April 17. Keith Ratzlaff will perform a reading of his poetry in the gallery on March 26 at 7:30 pm. The gallery will also host a reception and artist talk March 30 at 5 pm. The gallery is open weekdays from 9 am to 5 pm.
---