Jennifer Drinkwater
September 20, 2023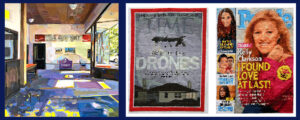 The work of Jennifer Drinkwater is exhibited in the Mills Gallery from August 23 – September 22 with an artist's reception held at noon on Friday, September 22.  The exhibition features paintings, prints, and embroidered works from her 168 Hours series and The What's Good Project. 168 Hours is an embroidered archive of 24 replicas of Time and People, two of the most popular weekly magazines in the United States.  The title of the series refers both to the numbers each magazine spends on the newsstand, and a rough estimate of time she spends stitching each cover.  The What's Good Project celebrates the meaningful stories from where we live.  Inspired by the conversations she has with folks around the country, Drinkwater creates original paintings about what's good in each of their communities.  A portion of each art sale is donated back to these communities.
Drinkwater is an artist, Associate Professor of Art & Visual Culture, and Community Arts Specialist for Extension and Outreach at Iowa State University. She explores how we bring artwork from the studio into the world, and how art-making can both build and shape community.  Over the years, she's created installations in restored prairies in Nebraska; collaborated on public art projects in vacant sites on Iowa main streets; spearheaded a community knit-bombing project; painted murals with middle school children on a juke joint in the Mississippi Delta and in Perry, Iowa; and written free toolkits about these projects.
www.jenniferdrinkwater.com.
---