Talent Search
Senior Scholarship Opportunities
Scholarship Workshop
Adam Carroll
Learn how to find scholarships and how to write a winning essay from Adam Carroll. Video Recording
Scholarship Opportunities for Seniors
College is possible and can be affordable! There are numerous resources to assist with the funding of your college career, which is an investment that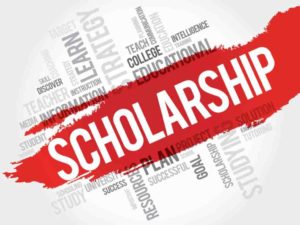 will provide a lifetime of benefits. Below is a list of scholarships that are available during the school year. Please check the due date on each scholarship. Also, know that there are MANY MORE scholarships out there. Ask your coordinator for help or check the links provided at the bottom of this page.
Scholarships
The All Iowa Opportunity Scholarship (AIOS) is a state-funded scholarship program for Iowa students who attend an eligible Iowa college/university. Priority is given to students who participated in certain federal TRIO programs while in high school (Upward Bound, Talent Search, Educational Opportunity Center). No essay required. Complete your FAFSA and then submit the AIOS application. https://iowacollegeaid.gov/AllIowaOpportunityScholarship
The Lois Dale Scholarship is a need- and merit- based grant designed to help ensure that a select number of outstanding Des Moines Public Schools (DMPS) high school seniors have the financial means to complete a two-year or four-year college education without debt. http://www.loisdalescholarship.org/organization/lois-dale-scholarship-award
The Des Moines Women's Club is offering 18 scholarships for the school year.  A total of $36,000 will be awarded for the school year. https://www.desmoineswomensclub.com/scholarships/
Prairie Meadows Scholarship started in 2001 and has awarded more than 700 Central Iowa students a $2,500 scholarship to help pay for the Iowa college or university of their choice. Coming soon, watch the website. https://www.prairiemeadows.com/about-us/scholarship-program
Robert D. Blue Scholarship provides scholarships ranging from $500 to $1,000 for tuition assistance. Recipients are young Iowans who exhibit scholastic ability, moral character, trustworthiness, courage, and ambition. https://www.iowacollegeaid.gov/RobertDBlueScholarship
Larry W. Carter Scholarship was created by the Community Foundation of Greater Des Moines to honor the 1996 Iowa Minority Small Business Advocate of the Year who worked at Northwest Financial Inc. and served four terms on the NAACP Board of Directors. Offering up to $3,000, the fund helps low-income minority students succeed in undergraduate or graduate education. Available February 2021. https://communityfoundationofgreaterdesmoines.wordpress.com/about/
Professional Educators of Iowa (PEI) grants over $5,000 in scholarships based on varying criteria. For instance, the Teacher of Tomorrow Scholarship supports education majors who aspire to teach in K-12 classrooms. Another example, the Ed Christian Memorial Scholarship encourages high school seniors to study areas of science. Coming soon, watch the website. https://peiowa.org/foundation/scholarships/
The Soil and Water Conservation Districts (SWCD) of Iowa funds three state-level scholarships for $2,000, $3,000, and $4,000 each year. Each of the district's six regions also provide $600 scholarships. Funding is intended for young environmentalists doing their part to save the planet's natural resources. Coming soon, watch the website.  https://cdiowa.org/get-involved/scholarships/
The Iowa 4-H Foundation knows it's not easy to finance a college education, and know that many Iowa 4-H'ers can use help achieving their educational goals. Consider applying for an Iowa 4-H Scholarship if you were a participant, funded by donors through the Iowa 4-H Foundation. https://www.iowa4hfoundation.org/en/funding_for_4hers/scholarships/
School Specific Scholarships
IOWA STATE UNIVERSITY
Iowa State University – Multicultural Vision Program (MVP) grants one hundred scholarships in the amount of full-tuition to incoming first-year students, who are U.S. Citizens or permanent residents, residents of the state of Iowa and identify as: American Indian or Alaskan Native, Black/African American, Asian American, Native Hawaiian or Pacific Islander, Hispanic or Latinx, or Multiracial on the application for undergraduate admission; or who have participated in a federally funded Talent Search or Upward Bound Program. https://www.multicultural.dso.iastate.edu/programs/mvp
Iowa State University – Christina Hixson Opportunity Awards are available to high school seniors graduating and entering as first-year students at Iowa State University in the Fall. This program will provide 100 undergraduates with half-tuition scholarships (estimated value of more than $17,000 over eight semesters).  https://www.hixson.dso.iastate.edu/
UNIVERSITY OF IOWA  
The University of Iowa offers various scholarships each year to outstanding undergraduate students based on financial need, academic merit, or both. Merit-based scholarships from the Office of Admissions do not stack. If a student meets the minimum requirements for multiple awards, they will automatically be awarded the scholarship with the highest dollar value. Ask your Admissions Counselor for all of the scholarships you qualify for to make sure you are receiving the one with the highest dollar value.  https://admissions.uiowa.edu/finances/scholarships
UNIVERSITY OF NORTHERN IOWA 
The University of Northern Iowa offers scholarships each year to deserving students, on the basis of merit and/or achievement.  Applying for scholarships at UNI has never been easier!  https://finaid.uni.edu/scholarship
Scholarships Search Engines
https://www.fastweb.com/ Fastweb is the leading online resource in finding scholarships to help you pay for school. Make a profile and a list of scholarships you can apply for will populate.
https://www.scholarships.com/ Search over 3.7 Million college scholarships and grants.
https://www.scholarships.com/financial-aid/college-scholarships/scholarships-by-state/iowa-scholarships/ Scholarships available to Iowa residents.
https://www.iowacollegeaid.gov/ Iowa College Aid Scholarships.
https://studentscholarships.org/ StudentScholarships.org has been providing scholarship information to students and scholarship management services to companies since 2003.
https://finaid.org/scholarships/  Scholarship search engine.
https://collegewise.com/ College Wise helps you be better equipped to handle the changing admissions landscape.
https://scholarshipamerica.org/students/ Scholarship America is where you can find scholarships and resources.