Field Station
The Carlson-Kuyper Field Station is Central College's 80-acre (32 hectare) nature preserve and "outdoor laboratory." Located about 12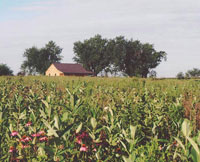 miles (19 kilometers) from the Pella campus, it is adjacent to the extensive wildlife areas managed by the Corps of Engineers around Lake Red Rock, Iowa's largest lake.
The Carlson-Kuyper Field Station was made possible by generous gifts in memory of Alice Carlson, professor of biology at Central College (1946-74), and Stu Kuyper, a leading citizen and benefactor in the Pella community. Alice's sister, Beulah Carlson of Ortonville, MN, provided funding for a building and equipment to enable on-site study and analysis of environmental processes by Central students and faculty. Davis and Eunice (Kuyper) Folkerts donated the property through a conservation easement to the Iowa Natural Heritage Foundation to protect the land from development forever. Stu was a founder of INHF, and wished the property be maintained as a natural area.
Habitats and facilities
The property includes approximately equal areas of wooded valleys (ravines), restored prairie, and mowed lawn with planted trees. Near the center of the property is a large pond (see photo above).
Classroom and laboratory building
The building features a number of environmentally-friendly "green design" features. Some are very simple, such as maximizing the use of natural light (South-facing windows) to reduce the need for electric lighting. Other conservation measures incorporated into the building include:
A PV (photovoltaic) array located just outside the building converts sunlight into electircal energy. The output can exceed 4 kW, more than anticipated peak demand by users of the building. Unused electricity is sold to the local Rural Electric provider and supplied to other utility customers.
High-efficiency Pella windows allow for passive solar lighting and heating. Large old Silver Maple trees (dating to the days when the property was a farm) help shade and cool the building in summer, but allow plenty of light through during the winter.
Tubes built into the floor will facilitate anticipated "active solar" heating to be retrofitted later. Black panels on the roof or nearby will absorb solar heat and this warm water will be circulated through the tubes, so the floor iteslf acts as a radiator.
"Smart Building" technology helps minimize energy use. Motion detectors sense occupancy of the building, and turn off lights when not needed. The hot water heater is on the same circuit, so water is only heated when people are using the building.
Following primary treatment in a standard septic tank, a constructed ("man-made") wetland further cleans the wastewater from the buildingd.
The classic technology of the old farm windmill still works! Water pumped from the well helps keep the pond full.