Our Department
Mission statement
Advances in such critical areas as the environment, genetics and medicine clearly show that biology is one of the most dynamic disciplines of our time; perhaps the only certainty is that no one knows which of its many facets will become important next. It is also clear that very few undergraduates enter college with a final decision on their ultimate vocational preference. The philosophy of the biology department reflects both of these realities by offering our students a strong foundation in biology without overspecialization
We emphasize an intellectual approach rooted in the college's liberal arts tradition. The biology faculty use the framework of biology to develop the kinds of abilities that will serve students well no matter what paths their lives take: to think critically, analytically and independently; to communicate effectively; to search for an original approach; to solve problems efficiently; to achieve and maintain intellectual curiosity. The result has been graduates who meet with success no matter where their life choices take them.
Facilities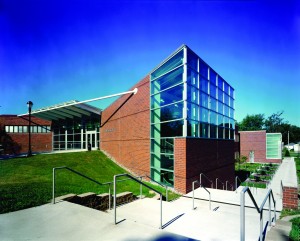 The Vermeer Science Center recently went through a $20-million renovation and expansion that was completed in fall 2003. In addition to biology, chemistry, physics and natural science departments, the mathematics and computer science departments are located in Vermeer. The building contains 13 high-tech classrooms. Each contains a ceiling-mounted projector, computer with flat panel monitor, Wolfvision document camera, combination VCR/DVD player and a Ken-a-vision flex camera. Vermeer also contains several computer labs with new Dell computers with flat panel monitors and the most recent versions of math and science computer programs. Numerous science laboratories with state-of-the-art science equipment allow students to conduct their own research. Just inside the main entrance is an easy to use touchscreen kiosk with a building directory that can be searched by room or professor's name. Central was awarded a silver Leadership in Energy and Environmental Design (LEED) medal rating from the United States Green Building Council (USGBC), making the science center the first LEED-rated building in the state.
Field station
The Carlson-Kuyper Field Station is Central College's 62-acre outdoor laboratory. Located about 12 miles from the Pella campus, it is adjacent to the extensive wildlife areas managed by the Corps of Engineers around Lake Red Rock, Iowa's largest lake.
Faculty
Contact faculty