Booking Procedure

The Central College Catering Department is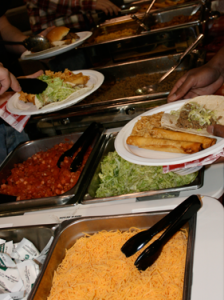 committed to enriching your event with delicious food, delightful presentation and dedicated service. To help us ensure your event is a success, we humbly request that you abide by the following catering policies.
Please reserve your room prior to contacting the Catering Department.
Please contact the Catering Department at least 10 business days prior to your event.
Be prepared to provide the estimated number of guests at that time and your final guaranteed
number three business days prior to the event.
Please be aware that should your guaranteed list not be provided by that time, your estimated
number will become your

guaranteed number,

and you will be billed based on the guaranteed or total number served – whichever is higher.
Cancellation notices must be made no later than four business days prior to the event.
In compliance with State of Iowa Regulations, all leftover food is to remain the property of Central College.
Billing Policies
We reserve the right to bill for special ordered items we are unable to return.
Children ages 4 to 10 are half priced.
A 50 percent deposit is required for all groups over 100.
Balance paid upon receipt of your bill must be received 10 business days prior to your event.
All pricing is subject to change due to seasonal availability and market prices.
All Central College groups will be billed through our billing process with your 12-digit budget number.
Off campus customers are to contact the Catering Office for additional billing information.