Student Advisory Board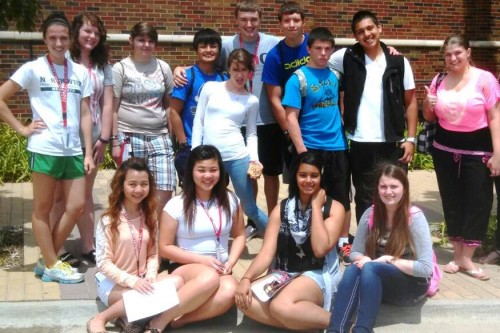 Responsibilities
The Upward Bound Student Advisory Board (SAB) provides an opportunity for elected representatives to develop personal leadership skills while working to develop the Upward Bound community. Responsibilities of the elected SAB members include:
a. Leadership Development – Participate in various leadership development opportunities during the summer program and throughout the academic year.
b. Mentorship – Serve as mentors for newly admitted students to the program.  Model UB/UBMS values and spirit, as well as serve as resource and guide as new students learn about UB/UBMS programs and activities.
c. Student Perspective on Program Development – Serve as student representatives/liaisons to UB/UBMS administrative staff for program development and student issues for program improvement.
d. Fundraising – Plan, organize, and facilitate UB/UBMS fundraising activities to support Bridge awards, contributions to the Council for Opportunity in Education, TC & Staff Appreciation Days, and UB/UBMS special events, as necessary.
e. Summer Gala – Plan the theme, food, and decorations for the UB/UBMS Awards Night & Gala during the summer program on July 13, 2012.
Roles, Requirements & Selection
The SAB is comprised of three officers – president, vice president, and secretary – and school representatives who serve from June to the following May. In order to serve on the board, students must meet the following requirements for the respective positions:
1. At least 1 year in the UB program
2. At least 1 summer program attendance (non-Bridge)
3. Leadership skills & regular participation in monthly meetings, workshops, &/or other UB events
The board officers may attend any of the schools we currently serve. Officers will be selected by existing program participants by ballot vote at a May meeting. Newly admitted students will not participate in the voting process.
2013-2014 Student Advisory Board Members
Officers:
President – Jeilah Seely (East HS)
Vice President – Izak Yaw (East HS)
Secretary – Htoo Say (Lincoln HS)
School Representatives:
East HS – Reannan Barlow & Jesse McGreggor
Eddyville-Blakesburg-Fremont HS – Cheyenna Fisher & Faith Starr
Lincoln HS – Juan Pina & Marilyn Lo
North HS – Mikolina Lowe & Taylor McDaniel
Oskaloosa HS – Amber Davis & Scottie Yang
Sigourney HS – Jeremiah Green
Bridgers: A.J. Walker & RazZae DeGeest (Summer 2013 only)
Advisor: Tiffany Berkenes, UB Coordinator
Upcoming SAB Events
June 7 – Election results announced for the 2014-2015 Student Advisory Board
June 18 – Pizza Ranch Tip Night Fundraiser
June 25 – Annual Dodgeball Tournament Fundraiser for the Bridge Student Scholarship Fund
June 27 – Annual Summer UB Gala Dinner & Dance planned by the Student Advisory Board
October 1 – Iowa TRIO Student Leadership Conference, University of Northern Iowa
November 8 – Reggie's Sleepout, Drake University
December/January – Iowa State University Basketball Concessions Fundraiser TBD
April – Spring Leadership Retreat & Service Project TBD
April – 2015-2016 SAB Voting