Scholarship Corner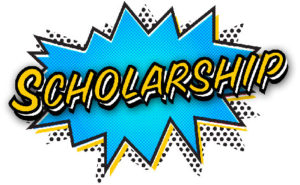 College is possible and affordable! There are numerous resources to assist with the funding of your college career, which is an investment that will provide a lifetime of benefits. Listed below are a few yearly scholarships that are available. Please check the due date on each scholarship. UB staff are available to proofread scholarship essays, and TutorMe is also available 24/7. Let us know what you apply for!
---
Scholarship Corner
---
The All Iowa Opportunity Scholarship (AIOS) is a state-funded scholarship program for Iowa students who attend an eligible Iowa college/university. Priority is given to students who participated in federal TRIO programs (such as Upward Bound and Talent Search) while in high school.
The Lois Dale Bright Scholarship is a need and merit-based grant designed to help ensure that a select number of outstanding DMPS seniors have the financial means to complete a two-year or four-year college education without debt, at Iowa State, Iowa, or UNI. Opens October 2023, due by late January 2024.
Bright Scholars of Iowa Award similar to the Lois Dale scholarship, this award is available to seniors from all Iowa high schools. Check with Iowa State, Iowa or UNI for scholarship date information.
QuestBridge offers full 4-year Match Scholarships to their college partners, that covers tuition, housing/food, books/supplies, and travel! Due by 9/26/23!
The APIA Scholarship Program supports students of Asian and Pacific Islander heritage through scholarships ranging from $2,500 to $20,000. Opens 9/13/23, due by 1/9/24
The Dell Scholarship is awarded to 500 students each year, and includes $20,000 in flexible funds, textbook credits, a laptop, resource network and much more. Opens 10/1/23, due by 12/1/23.
The Coca-Cola Scholars Foundation offers achievement-based scholarships to graduating high school seniors. 150 Coca-Cola Scholars are selected each year to receive this $20,000 scholarship. Their website also has links to MANY more scholarships from other organizations! Already open for 2024, due by 10/2/23.
The Des Moines Women's Club is giving scholarships in 2023-2024 to students studying art, drama, music, STEM, Music Ed, Elementary Ed, and Veterinary Sciences. Open for 2024, due by 1/26/24.
Jackie Robinson Scholarship is open to graduating, minority high school seniors with leadership potential who plan on attending an accredited and approved four-year institution within the United States. Opens Sept 2023, due by 1/10/24.
—
Elks National Foundation Most Valuable Student Scholarship Contest Open to any high school senior who is a U.S. citizen, Elks offers 500 scholarships ranging from $1,000 to $7,500 a year. Applications will be judged on scholarship, leadership, and financial need. Open for 2024, due by 11/13/23.
Are you an Iowa 4-H'er planning to attend college? The Iowa 4-H Foundation has multiple scholarships available that can be applied for by filling out one application. Open for 2024, due by 3/1/24.
10 Words or Less Scholarship "In 10 words or less, tell us why you deserve the $1,000 scholarship".
Varsity Tutors Scholarship is an ongoing scholarship opportunity, where you write essays on a monthly topic. If yours is chosen, you win $200!
Keep Iowa Beautiful Scholarship offers 3 $1,000 scholarships to Iowa seniors who plan to attend an Iowa college or university. Open date for 2024 TBD
—
IOWA STATE UNIVERSITY
Iowa State Multicultural Vision Program (MVP) – This award grants 100 full-tuition scholarships to incoming first-year students. Many Upward Bound students have received this scholarship!! Open date for 2024 TBD
Hixson Opportunity Awards This scholarship is available to high school seniors who will be entering first-year students at Iowa State in the fall. This program will provide 100 undergraduates with half-tuition scholarships! Open date for 2024 TBD
Iowa State offers thousands of scholarships each year – you can visit their scholarships page for more information.
—
UNIVERSITY OF NORTHERN IOWA
The University Honors Program at UNI offers 20 Presidential Scholarships each year to students with high academic performance and provides additional opportunities for those students to participate in leadership experiences.
The UNI RISE Award is a $4,000 scholarship per year, offered to students that have been part of a high school TRIO program (like Upward Bound!).
More info for both of these awards, and many others, can be found here. Applications opened in July, due by 2/1/24
—
UNIVERSITY OF IOWA
First year Iowa students who submit an application by March 1 are automatically considered for the Iowa Scholars Award. Amounts range from $500-$8,500 a year for up to 4 years. Open for 2024, due by 3/1/24
The Advantage Iowa Award is for incoming first-year students that have participated in an Upward Bound program (that's you!). $2,000-$8,000 every year! Open for 2024, due by 3/1/24
Visit the Iowa Scholarships Portal for hundreds more opportunities!
Application portal is open, due dates vary by scholarship.
—
OTHER SCHOLARSHIP WEBSITES
There are MANY sites that allow you to search and be matched to scholarships that fit you. Here are just a few – Scholarships.com, Cappex, Access Scholarships, ScholarshipOwl, BigFuture, Going Merry
Iowa College Aid has information on everything about financial aid, including scholarship links, grants, student loans, and how to understand your financial aid package.
Want to learn even more about scholarships? Scholarship 101